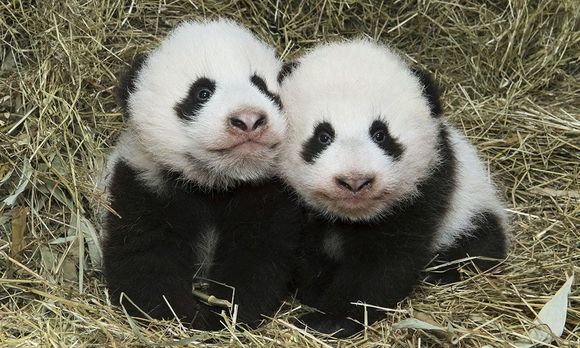 Az ikrek jól vannak
Long Hui öt kis panda apja volt. A kicsinyeket, ahogyan ez pandáéknál szokás, párja, a vele egyidős Jang Jang gondozta. Különlegességnek számít, hogy a megtermékenyítés természetes úton történt. Az első három bébi már Kínában él, az augusztusban született ikrek még a bécsi állatkertben vannak. November végén a közönség szavazatai alapján kapták nevüket: 12 ezer ötlet futott be a névadás honlapjára. Végül a fiú a Fu Ban, a lány pedig a Fu Feng nevet kapta.
A rajongóknak egyelőre ennyivel be kell érniük, az immár három hónapos panda kölykök még nem látogathatók. Hogy mikor mutatkoznak be, azt Jang Jang dönti el - vagy esetleg ők maguk. A kölyköket viszont már sikerült lemérni (no és lefényképezni), amikor az anya rövid időre magára hagyta őket a "fészekben". Súlyuk - 4,26 kg illetve 3,97 kg - jelzi, hogy szépen fejlődnek.
Long Hui halála súlyos csapás: Schönbrunn az egyetlen európai állatkert, ahol a Kínában honos fajta természetes úton szaporodik.