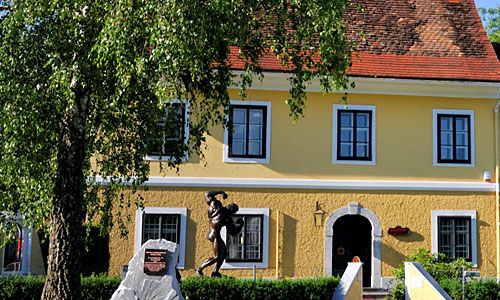 A múzeum
A születésnap alkalmával érdemes felidézni a hollywoodi sztár, majd sikeres amerikai politikus osztrák vonatkozásait. Arnie mindig is szoros kapcsolatot tartott szülőhelyével, Stájerországban pedig nemcsak politikai karrierje óta büszkék rá. Az óhazában több mint harminc éve kíséri jóindulatú figyelem az Amerikába szakadt honfitárs minden megmozdulását, hazalátogatásai mindig ünnepi eseménynek számítottak, akár filmbemutatóra, akár családjához, vagy éppen a paraolimpia alkalmából érkezett. Édesanyja, Aurélia 1998. évi haláláig köztiszteletnek örvendett, sőt szent asszonynak számított, amiért ilyen fiút adott a hazának és a világnak. Az osztrákok egy emberként drukkoltak Arnie minden gyermekének születésekor, hogy minden rendben menjen, és a szokásos káröröm helyett inkább sajnálkozást és aggodalmat váltott ki, amikor a Sylvester Stallonéval közös étteremlánc-vállalkozás, a Hollywood Planet megbukott. A község apraja nagyja ott ült a képernyő előtt a kaliforniai kormányzóválasztáskor, amit az osztrák tévé a helyszínről közvetített.
Feszültségek
Aprócska kisiklások azért adódtak. Előfordult, hogy Ausztriában úgy érezték, befeketíti az óhazát. Példának okáért éppen az egyik fontos amerikai választás előtt egy New Yorki republikánus gyűlésen elhangzott beszédében. - Saját szememmel láttam a kommunizmust – mennydörgött a szónoki emelvényről, majd a szovjet páncélosok látványával, a kivonulás utáni szocialista Ausztria emlékével magyarázta, miért támogatja inkább a republikánusokat. Márpedig szovjet páncélost Schwarzenegger egyet sem láthatott: amikor 1947. július 30-án megszületett, Stájerországban már több mint két éve egyetlen orosz sem volt, lévén angol megszállási övezet. Nagyjából ennyire lehetett szörnyű a "szocialista Ausztriáról" őrzött emléke is. Védelmezői a tévedést azzal mentegették, hogy nem történészként, hanem politikusként tartott beszédet, s nyilván a kollektív emlékezetre hagyatkozott: akkortájt Ausztriában azok is féltek az oroszoktól, akik életükben egyet se láttak.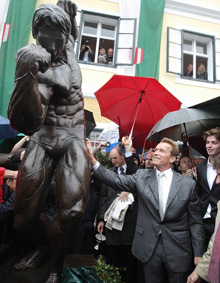 A szoboravatáson, mögötte, jobbra a fia, Patrick
Súlyosabb ügy volt a másik eset: Ausztriában kifejezetten nehezményezték, hogy a kaliforniai kormányzó nem élt a kegyelem lehetőségével, és engedte kivégezni a halálraítélt Stanley "Tookie" Williams-t. Valamennyi politikai erő, de a szülőfalu lakossága is követelte: Ausztria szakítson meg vele minden kapcsolatot, vegyék vissza tőle az osztrák állampolgárságot, a thali díszpolgárságot, sőt, Graz róla elnevezett stadionját kereszteljék más névre.
Aztán lecsillapodtak a kedélyek. Végül is Arnie érdemei nagyobbak "bűneinél". Ő az, aki beteljesíti a kisember vágyait. Ő a szegénysorból a csúcsra emelkedett mesebeli hős. Gyermekkorát részben Ausztria háború utáni éveinek szegénysége, részben az apa – a náci párttagsági múltú csendőrparancsnok – kérlelhetetlen szigora határozta meg. Mindig azt éreztem, hogy nem vagyok elég jó – emlékezik a mai napig gyermekkorára, de nem az lenne, aki, ha ezt haraggal mondaná. Körömszakadtáig védi a papa jó hírnevét – nemcsak önös érdekből -, olyannyira, hogy 1990-ben felkérte a Los Angeles-i Wiesenthal Központot a kétes múlt felkutatására. A "bizonyítványt" feltehetően gyakran kell elővennie: abból az derül ki, hogy Gustav Schwarzenegger tagja volt ugyan a náci pártnak, de háborús bűnöket nem követett el. Arnie egyébként már akkor bizonyította, hogy távol áll a fasiszta eszméktől, amikor még eszében sem jutott indulni a kaliforniai kormányzói posztért. Elkötelezett pártfogója a mozgáskorlátozottaknak, akiket hatalmas összegekkel támogat, csakúgy, mint a holokauszt-kutatást, emellett harcol a homoszexuálisok jogaiért.
A tündérmese
Talán az atyai szigor űzte a szép szál kamaszt annak idején a fitnesz klubba: 15 évesen már heti hat napon alkalmanként négy órát tölt izmai acélozásával, s közben Amerikáról, a korlátlan lehetőségek hazájáról álmodozik. Bálványa Reg Park, a filmsztárrá lett legendás testépítő.
Azzal a kitartással edz, ami azóta is jellemzője. 1965-ben éppen sorkatonai szolgálatát tölti, amikor Stuttgartban megrendezik a junior testépítő Európa-bajnokságot. Odautazik, megnyeri, de a kaszárnyában vörös szőnyeg helyett sötétzárka várja, mert nem kért engedélyt az eltávozásra.
Mr. Junior Europe-ként jön a nagy lehetőség: a body building mogulja, Joe Wieder Kaliforniába invitálja. 1968-ban immár a profi izompacsirták legjobbjának bizonyul, sőt a Guinness könyvbe is bekerül, mint "minden idők legjobb felépítésű férfiúja". (Mellbőség: 144 cm; bicepsz: 56 cm; versenysúly: 106 kg.).
És a film?
A filmpálya legalább ekkora kitartást igényel. Az első szerep, 1969-ben a Herkules New Yorkban című filmben bukás. Pedig mindenben követi a producer akaratát: az Amerikában kimondhatatlannak tartott név helyett Arnold Strong-ként játszik. Nem csügged, előveszi a fitnesz teremben kialakított akaraterejét, fegyelmezettségét, taktikai érzékét. Az áttörés 1981-ben következik be a Conan, a barbár című filmmel. Az acél, az erő, és az akarat keveréke - mondja róla producere. Testépítő kollégája, Lou Ferrigno nem őriz ilyen szép emléket: arrogáns fickónak nevezi, aki manipulálja az ellenfelet és nem válogat az eszközökben. Hatszoros testépítő világbajnokként a 28 éves Arnie felkészülését a következő olimpiára már kamera követi. Az így elkészült dokumentumfilm fura részeket is tartalmaz: megörökíti, ahogyan Arnie marihuánát szív, diktátorokat dicsőít, rasszista vicceket mesél – így aztán nem csoda, hogy a vagy 80 óra vágatlan anyag összes jogát ő maga vásárolja meg. (Pár éve hozzájárult a szerkesztett változat vetítéséhez).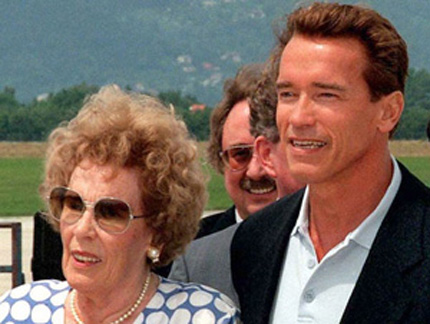 Archiv kép - mamájával
Az igazi sikersorozat 1983-ban kezdődik, a 6, 4 millió dolláros mini költségvetéssel készült Terminátorral, amely aztán 100 milliót hozott be. A siker csakis neki, a főhősnek tudható be. Saját stílust teremtve ettől kezdve sorozatban alakítja a szeretnivaló akcióhőst, aki a gonosz elleni harcot rövid vicces "egysoros" mondásokkal fűszerezi. Huszonhat filmje mind kasszasiker, összesen 1,88 milliárd dollárt hozott, ő maga 30 millióra tornászta fel gázsiját. Eszesen alakította karrierjét, anyagi sikerét ingatlanvállalkozásával is biztosította.
Családi kötelék és az osztrák kapcsolat
Magánélete sokáig tökéletesnek tűnt. A legendás Kennedyk unokahúga, Maria Shriver 1977-ben egy jótékonysági teniszturnén szeret bele a különlegesen kidolgozott testbe. Nem titok, hogy Arnie szülőföldjén, a Thaler tó közepén egy csónakban kéri meg Maria kezét. Az esküvőig, 1986-ig volt lehetősége a Kennedy klánnak befogadni Arniet – és egy idő után Schwarzenegger erényének tartották, hogy a családi kötődés ellenére megtartotta saját énjét, vagyis a Kennedyk hagyományos demokrata elkötelezettsége közepette ő kitartott republikánus érzelmei mellett. A család elnézte neki ezt is, s ebben bizonyára szerepe van annak, hogy e robusztus felépítésű férfiú kedvessége, lebilincselő modora legalább olyan híres, mint testi ereje.
Lépten-nyomon hangoztatja ragaszkodását Ausztriához. "Félig amerikai vagyok, félig osztrák, a szívem pedig stájer" – szokta mondani. A Terminator 3-ban széles vásznon látható, amint éppen Manner ostyáért nyúl: Ausztriában persze köztudott, hogy imádott mamája halála óta ez a tipikusan osztrák édesség tölti be életében az almás rétes szerepét. Santa Monica-ban, Schatzi am Main névre keresztelt vendéglőjét ugyan váratlanul eladta, de továbbra is importálja az amerikai szabványnak megfelelő alkoholtartalmú saját Gösser sört. Telik a külön gyártásra és behozatalra: Arnie vagyonát minimum 200 millió dollárra becsülik
Ilyen gesztusoknak is köszönheti, hogy Ausztriában is magas pártfogói, igaz barátai vannak. Ők intézték el még 1981-ben, hogy amerikai állampolgársága mellett megtarthassa az osztrákot is. Az óhaza csodálatának jele, hogy a grazi stadiont nevére keresztelték. No és ott a múzeum, ahol a Stájer Tölgy pályafutásának tárgyi emlékei is megtekinthetők. Nem utolsósorban Schwarzenegger jóvoltából: ő készségesen egészíti ki az ereklyéket, amelyeket a buzgó thaliak már összehordtak. Merő szeretetből, hiszen, csináljon bármit is, Arniet a "mi kutyánk kölykének" tekintik. Ezen nem változtatott a sok- sok (igaznak bizonyult) pletyka, a házasságtörés, a törvénytelen gyerek, és a mindezt megpecsételő válás. Arnie pedig minduntalan bizonyítja: méltó a szülőföld szeretetére, hiszen részt vesz annak hétköznapi életében. Legutóbb, vállalva a kellemes kaliforniai időjárás helyett a zord ausztriai telet, idén január elején, Josef Krainer volt stájer tartományfőnök temetésére érkezett. A 87 éves korában elhunyt Josef Krainer - aki 1996-ig volt Stájerország tartományfőnöke, és egész életét a politikának szentelte - neki csak Joschi volt, így számára magától értetődött, hogy átrepüli az óceánt kedves barátja temetésére. Az osztrákok számára ppedig egészen természetes, hogy ünneplik a hetvenedik születésnapot.