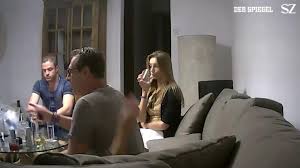 A német Bild magazin fotója a videóból
A korrupció gyanúja nem állja meg a helyét - állapította meg az ügyészség. Igaz, Heinz-Christian Strache csereügyletet ajánlott a titokzatos orosz oligarchának, nevezetesen, hogy vaskos állami megrendeléseket kap, ha megvásárolja a legnépszerűbb bulvárlapot és azt a választási kampányban pártja mellé állítja, illetve ha nagyobb összegeket juttat az FPÖ alapítványainak számlájára, de ez az ajánlat jogi értelemben nem vehető komolyan. Strache és társa, Johann Gudenus ugyanis a beszélgetés idején, 2017 nyarán nem volt olyan pozícióban, hogy a kormány nevében bármit is ajánlhatott volna. Igaz, nagyonis valós volt a remény, hogy a néhány hónap múlva esedékes választáson pártja bekerül a kormányba, (és ez be is következett), ezt a feltételezést azonban az igazságszolgáltatás nem veheti figyelembe.
Ugyancsak megalapozatlannak találták azt a gyanút, hogy Strache, Gudenus és néhány nagy adományozó "államellenes szövetséget" hozott volna létre, vagy éppen csak rágalmazta politikai ellenfeleit.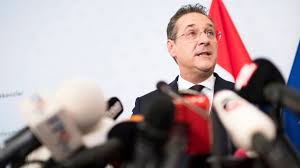 H.C. Strache bejelenti lemondását - screen fotó, ORF
Az FPÖ főtitkára ujjongva jelentette be az ügyészség döntését, arra azonban nem sok szót vesztegetett, hogy a videó ügyében folytatódik a nyomozás. Mégpedig nem csak a háttere felderítésére - ki készítette, kinek a megbízásából? Azt próbálják kideríteni, vajon Strache és Gudenus árulást követett-e el, megsértette-e a büntetőtörvénykönyv vonatkozó (153.) paragrafusát. Ugyancsak nyomoznak még néhány nagyvállalat panasza ügyében - amelyek szerint fontos megbízásokról rendezett pályáztatásokat az FPÖ bizonyos vezetőinek nyomására nem éppen tisztességesen bíráltak el. Ezek az eljárások azonban a párt leköszönt vezetőjét nem érintik.
A sajtó máris megfogalmazza a kérdést: vajon jelenti-e mindez H.C.Strache visszatérését a politikába? Olyan hamar azért ez nem fog megtörténni - hangzik az elemzők válasza, vagyis a szeptember 29-i választások előtt ez aligha várható. Viszont a 2020-ban esedékes bécsi tartományi választásokon lehet, hogy számolni kell Strache indulásával.