Bécsben már a 16. században is volt etnográfiai gyűjtemény, az meg igazán nem csoda, hogy a Habsburg Ház uralkodói közül sokan szenvedélyes utazók - és gyűjtők - voltak. Ausztria a Monarchia idején nemigen fordított (fordíthatott) időt és energiát holmi gyarmatosításra, elég baja volt a sok nemzetiség együtt tartásával. De a nagy elődök által hazahozott kincsek megőrzése, tárolása, rendszerezése fontos feladat volt - s most, az október végén, a nemzeti ünnepen megnyílt új múzeum derekasan profitál ebből.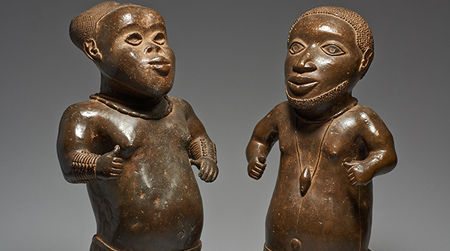 A kései utódokat, nevezetesen a Világmúzeum igazgatóját, Steven Engelsmant dicséri az a tény, hogy e terjedelmes anyag tematizálva kerül most a nagyközönség elé - vagyis nem érik be azzal, hogy korszerű raktárokban tárolják és időről időre ideiglenes kiállításokon mutassák be egyik-másik szeletét. Mindez nem jelenti azt, hogy nem lesznek időszaki kiállítások, amelyek mellesleg mindig jók arra is, hogy a látogató újra végigjárja az állandó anyagot bemutató termeket.
A Neue Burg épülete önmagában is elvarázsolja a látogatót - most azonban, az új múzeumi anyag különlegessége további vonzerőt jelent. Talán a legizgalmasabb az a terem, amelyben Ferenc Ferdinánd világkörüli útjának trófeái láthatóak - ezeket mellesleg néhány évvel ezelőtt egyszer már kiállították. 2017-ben jól hasznosíthatták a korábbi tapasztalatokat, kiindulva abból, hogy a látogató mit tartott a legérdekesebbnek. Térképen követhető az útvonal, amit Ferenc Ferdinand bejárt, és teljes képet alkothat a közönség a kép gyűjtőszenvedélyéről is. Külön termet kapott Japán, Kína, Brazília, Etiópia, 19. századi kincsekkel, vadászati gyűjteményekkel, és megannyi csemegével. A tizennégy terem valószínűleg egy alkalommal nem is járható be - maga az igazgató azt tanácsolja, hogy az első szemrevételezés után a látogató térjen vissza!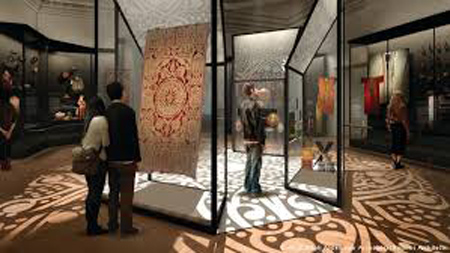 Az összegyűjtött anyag töredéke fér csak el az állandó kiállításon, így biztosított, hogy a betervezett évi 3-4 időszaki kiállítás is meglesz. Persze ez pénz kérdése is- az állami támogatáson túl várják a szponzorokat. Az új múzeum az átellenben lévő Szépművészetivel szövetségben állami kezelésben van, ez alapellátmányt biztosít .
Parádés volt a hivatalos megnyitó, amelyre a világ minden részéből érkeztek művészek - ahogyan ez egy világmúzeum esetében el is várható.
Nyitvatartás: szerdán szünnap, naponta 10-18 óráig, pénteken 21 óráig. Részetek a honlapon - itt.