Gulyás Gergely kancelláriaminiszter sem szankciót, sem tényleges eljárást nem vár a kormányával szemben a 7. cikkely alapján indított EU-s eljárástól. Elvileg a jogállamiság kritériumainak megsértése akkor járhatna a szavazati jog megvonásával, ha az Európai Tanács megállapítja, hogy "egyértelműen fenn áll az EU-alapjogainak súlyos megsértésének veszélye". Ehhez azonban a Tanácsban egyhangú szavazásra van szükség (az érintett ország szavazata nélkül). És ez teljesen "kizárt" - jelentette ki Gulyás. Lengyelország már bejelentette, hogy megvétózza a szavazást. Fordított esetben pedig Magyarország támogatja majd Lengyelországot.
Gulyás azt is valószínűtlennek tartja, hogy létrejön az Európai Tanácson belüli 4/5-ös többség, (vagyis 22 ország azonos szavazata), amelyre szükség lenne egy az érintett országhoz intézendő "figyelmeztetéshez", amelynek alapján aztán "konstruktív párbeszéd" kezdődhetne az adott kormánnyal. A kancelláriaminiszter pénteken mutatta be a kormány védekezésének azokat a főbb irányvonalait, amelyeket majd személyesen fog képviselni. Gulyás "politikai kirakatpernek" nevezte az eljárást, amelynek során Magyarország úgy fog érvelni, mintha "tartalmi tényekről lenne szó", ami szerinte azonban egyáltalán nem igaz.
Százoldalas állásfoglalás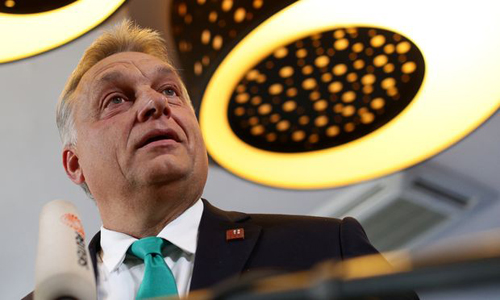 A lap képe a cikkhez: Orbán Viktor magyar miniszterelnök számíthat Lengyelország támogatására - (C) REUTERS (LISI NIESNER)
A hétfői ülésen Gulyás egy "százoldalas állásfoglalást" akar a miniszterek elé terjeszteni, amely állítólag részletesen cáfolja majd az Európai Parlament kifogásait. Mondandójának középpontjában az áll, hogy az EU-s kötelezettségszegési eljárások keretében az egyes magyar törvényekkel kapcsolatos konfliktusok jelentős részét az évek alatt, 2014-ig bezárólag megszüntették. A médiával vagy az igazságszolgáltatás működésével kapcsolatos törvényeket "az EU-Bizottság észrevételeinek megfelelően szóról szóra" megváltoztatták, és ennek eredményeként a kötelezettségszegési eljárásokat be is szüntették.
Ha ezeket a témákat most ismét vádpontok között szerepeltetik, az nagyon veszélyes az EU jövője szempontjából. "Ez azt jelezné, hogy értelmetlen dolog konstruktív módon együttműködni a Bizottsággal" - mondta Gulyás. Eszerint semmi jelentősége nincs egy Brüsszellel megkötött tartalmi megegyezésnek - a Bizottság javaslatai alapján végrehajtott törvényi változtatások sem védik meg a tagállamokat attól, hogy később ugyanabban az ügyben ismét ugyanazok a kifogások hangozzanak el. A jogállamiság szempontjából, amiről itt szó van, ez mégis csak kifogásolható eljárás.
Emellett Magyarország kétségbe vonja a szavazatszámlálási eljárás törvényszerűségét, amellyel az Európai Parlament szeptemberben elfogadta a 7. cikkelyen alapuló eljárás megindításának javaslatát tartalmazó előterjesztést. Ennek során a tartózkodást nem számították leadott szavazatnak - hogyha annak számították volna, akkor nem lett volna meg a szükséges kétharmados többség. Magyarország szerint ez a szavazási szabályok megsértése. Emiatt az ország panaszt nyújtott be az Európai Bírósághoz.
Még nem lesz határozat
A Tanács brüsszeli ülésén, amelyet Gernot Blümel osztrák Európa-miniszter elnökletével tartanak hétfőn, nem kell nagy drámai eseményre számítani. Az Európai Bizottság nevében Frans Timmermans alelnök előterjeszti majd a jogállamiság magyarországi helyzetének alakulásával kapcsolatos Bizottsági aggodalmak írásos összefoglalóját. Néhány miniszter kifejtheti álláspontját. "Ez azonban még nem Magyarország formális meghallgatásának az ideje" - mondta csütörtökön egy EU-s diplomata.
(Die Presse, nyomtatásban 2018.11.10.)
Fordította: dr. Gonda László