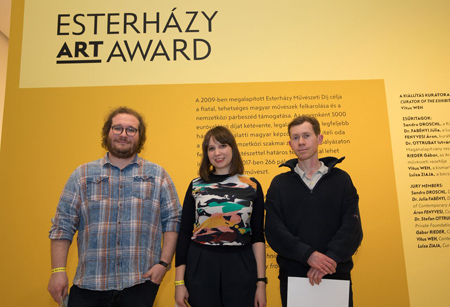 A díjzottak - Fotó: Kerekes Zoltán
Nem kis dolog egy fiatal művész számára a bemutatkozás lehetősége, különösen, ha ez ilyen fontos helyen történik. E lehetőség biztosítása tökéletesen beleillik az Esterházy Magánalapítvány és az általa alapított Esterházy Contemporary Program koncepciójába. Ez pedig nem egyéb, mint a dinasztia hagyományainak megőrzése. Végülis az Esterházy hercegek több mint 400 éves gyűjtői szenvedélye mecénási tevékenységgel is párosult. A kései utódok mindenesetre felismerték, hogy a kortárs művészet - a tehetséges fiatal magyar alkotók- támogatása nagyonis időszerű feladat.
Ennek jegyében a 2009-ben megalapított Esterházy Művészeti Díj célja a fiatal, tehetséges magyar művészek felkarolása és a nemzetközi párbeszéd támogatása. Az egyenként 5000 euróval jutalmazott díjat kétévente, minimum kettő és maximum három 45 év alatti magyar képzőművésznek ítéli oda a független szakmai zsűri.
A korábbi győztesek – Horváth Dániel, Siegmund Ákos, a Borsos Lőrinc, Király András, Szabó Ábel, Karácsonyi László Attila, Csató József, Kaliczka Patrícia, Kovács Olívia, Makai Mira Dalma, Kaszás Tamás és Tibor Zsolt – alkotói munkásságát az alapítvány folyamatosan figyelemmel kíséri.
A határokon átívelő dialógus egyik eredményes idei együttműködése a két zsűritag SandroDroschl és Fenyvesi Áron kurálásában megvalósult Abstract Hungary címmel megrendezett gráci kiállítás, amely nyáron a bécsi Real Hungary kiállítással.párhuzamosan volt nyitva. Az Esterházy Now határozott célja a fiatal magyar képzőművészek nemzetközi kontextusba helyezése.
Az Esterházy Művészeti Díjra benyújtott pályaművek magas színvonala az idén újra nehéz döntés elé állította a zsűrit. Végül a tagok a második fordulóban jutott huszonegy művész közül három olyan különleges művészeti pozíció mellett döntöttek, amelyek hűen tükrözik a kortárs képzőművészeti szcéna aktuálisan fontos irányait.
A független szakmai zsűri tagjai – SandroDroschl, Dr. Fabényi Julia, Fenyvesi Áron, Rieder Gábor, Vitus Weh és Luisa Ziaja, valamint a díj alapítója, az Esterházy Magánalapítvány részéről Dr. Ottrubay István kétlépcsős kiválasztási rendszerben, 266 pályázóból válogattak a döntőbe 21 művészt - ők már eredetiben nyújtották be műveiket, és elnyerték a kiállításon való részvétel jogát. Közülük került ki a három győztes, Ezer Ákos, Keresztes Zsófia és Nagy Imre, akik között.egyenlő arányban oszlik meg az összesen 15.000 euró .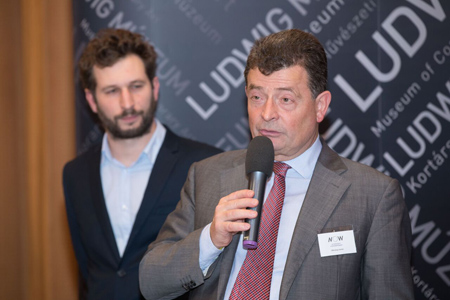 A díjkiosztón Ottrubay István - fotó: Kerekes Zoltán
A győztesek
Ezer Ákos (1989-ben született Pécsett, Budapesten és Tóalmáson él és alkot) festményei vidám erőteljességgel mutatják be az egyszerű ember bukdácsolását, meghiúsult álmait, esendőségét. Figuratív teremtményei önmagára is reflektáló absztrakcióként jelennek meg.
Keresztes Zsófia (1985-ben született Budapesten, itt él és alkot) személyében egy olyan fiatal művészt ismerhetünk meg, aki egy poszt-szkeptikus és poszt-feminista generáció tagjaként óriási önbizalommal, ugyanakkor nagyon érzékien bánik az anyaggal, a testiséggel és a térrel. Térben burjánzó szobrai napjaink fogyasztáson alapuló önemésztésének rituális maszkjai.
Nagy Imre (1975-ben született Budapesten, Bécsben végezte tanulmányait, ahol azóta is él és alkot) alkotásai generációjának általános állapotát testesítik meg: a légüres teret és az ingatag létet. Mindennapi használati tárgyakból látszólag ideiglenesen állítja össze őket. Titokzatos elveszettségükben és anyagi esetlegességükben ugyanakkor autonóm kisugárzással és aurával rendelkeznek.
A kiállító művészek:
Albert Ádám, Bernáth Dániel, Dobokay Máté, Ember Sári, Ezer Ákos, Fridvalszki Márk, Galambos Áron, Keresztes Zsófia, Kiss Adrian, Kokesch Ádám, Koós Gábor, Kristóf Gábor, Kútvölgyi-Szabó Áron, Molnár Zsolt, Nagy Imre, Pintér Gábor, Puklus Péter, Schwéger Zsófia, Szentesi Csaba, Utcai Dávid, Zuzana Zurbolová.
Zsűritagok:
Sandro Droschl, a gráci Künstlerhaus, Halle für Kunst & Medien igazgatója
Dr. Fabényi Julia, a Ludwig Múzeum – Kortárs Művészeti Múzeum főigazgatója,
Fenyvesi Áron, kurátor, műkritikus, a Trafó Galéria vezetője,
Dr. Ottrubay István, a díj alapítója, az Esterházy Magánalapítvány vezérigazgatója,
Rieder Gábor,az ArtKartell főszerkesztője, a GalleryWeekend művészeti vezetője,
Vitus Weh, az Esterházy Magánalapítvány művészeti tanácsadója,
Luisa Ziaja, a bécsi 21er Haus kurátora.
Képgalériánk Kerekes Zoltán fotóival itt tekinthető meg: