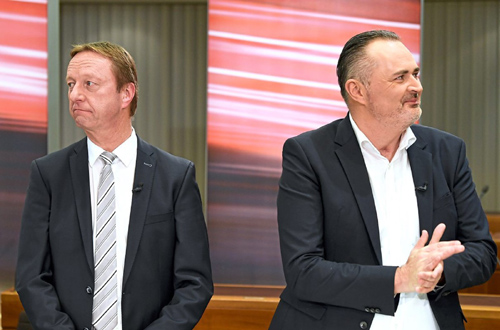 Nem nehéz az arckifejezésből kitalálni, a képen látható két férfiú közül melyik a vesztes - az FPÖ helyi vezére
Azóta sok politológus keresi az Ausztriában választásról választásra hanyatló SPÖ helyi győzelmének okait. Nagyjából megegyezik az a vélemény, hogy az eredmény szinte kizárólag a tartományi párt élén álló Hans Peter Doskozil személyes érdeme. Igaz, az országos viszonylatban a legszegényebbnek számító tartomány mindig is az SPÖ fellegvárának számított – ám az EU támogatásoknak köszönhetően ma már osztrák viszonylatban sem mondható a térség elmaradottnak. Másrészt tény, hogy az utóbbi években a jobboldali populista jelszavakkal – nem utolsósorban a keletről, (Magyarországról) beözönlő munkaerő ellen - lázító Szabadságpárt (FPÖ), itt is nagyon sok szociáldemokrata szavazót hódított el. A legfrissebb választási eredmény azt mutatja, hogy ők azok, akik megtértek az SPÖ-höz.
A kérdés az, vajon mivel érte ezt el Hans Peter Doskozil, és miért éppen ő. A még csak nem is burgenlandi születésű politikus rendőrtisztként került közel a politikához- és Burgenlandhoz. Jogi diplomájának megszerzése után előbb Burgenlandban, majd Bécsben, utána ismét Burgenlandban töltött be funkciókat a biztonsági szolgálatoknál, nem utolsósorban a menekültkérdés megoldásának felelőseként, legutóbb pedig Burgenland rendőrfőnökeként. 2015-ben nagy szerepet játszott a menekültáradat nickelsdorfi irányításában, s feltehetően e szolgálata elismeréseként 2016-ban a szövetségi kormány védelmi minisztere lett. Kíméletlen rendpártisága sok bírálatot váltott ki, saját párttársai részéről is, de a hadsereg megújítására tett kísérletei sikert arattak minden pártban. Az ellenzéki szerepet azonban nem vállalta, és amikor az SPÖ elvesztette a választást, visszament Burgenlandba.
2017-ben került be a burgenlandi kormányba, majd miután a tartományi SPÖ megválasztotta elnökévé – Hans Niessl utódává-, ezzel automatikusan megörökölte a tartományfőnöki pozíciót is, és vele együtt koalíciós partnerként a Szabadságpártot. A váltás miatt nem tartottak előrehozott választást – a menetrendet betartva idén január végén pedig a Doskozil vezette SPÖ visszaszerezte a jó régen elvesztett abszolút többséget. Kormánycsapatán nem változtatott, az új kormánytagok a szabadságpártiak helyébe léptek.
Az azóta sokszor feltette kérdésre, hogy mivel magyarázza a győzelmet, Doskozil a pragmatikus, a kisemberek számára érthető és elérhető célokat említi. Mindezt holmi ideológia helyett, azt is vállalva, hogy bizonyos megfogalmazásaiban eltér a szocdemek értelmezéseitől, és inkább közelít a hétköznapi emberek elvárásaihoz. A közbiztonság és a biztos megélhetés fontosabb az ideológiánál – vallja. Megnyerni pedig nem a baloldali, a Zöldekhez átpártolt szavazókat akarta, hanem azokat, akik a jobboldalt találták vonzóbbnak. Ennek érdekében ő meg hallgatja az alsó középosztály félelmeit, és ezekre (is) keresi a választ. E félelmek a biztonságpolitikára (is) vonatkoznak – e tekintetben Doskozil vállalja a szigort és a jobbra tartást. Ami viszont a szociálpolitikát illeti, ott a burgenlandiak már tapasztalhatták, mi várható. Fizetésemelés az egészségügyben, az állami szektorban – ez már valóság. Ígéret, hogy a magánszektort is hasonló lépésre ösztönzik. És: az idős hozzátartozók ápolása Burgenlandban fizetett állás, annak minden jótékony hozadékával.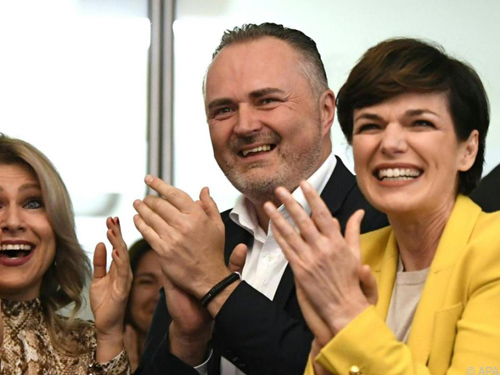 Rendi-Wagner örül a burgenlandi sikernek - Fotó: AP/Robert Jaeger
Egy kis siker, vagy annak esélye jól jönne jól jönne a szövetségi SPÖ számára is, igaz, egyértelmű, hogy minimum hiteles vezető kell hozzá. A 2018-ban a párt élére került Pamela-Rendi Wagner inkább észrevehetetlenségével tűnik ki, s hogy ezt maga is érzi, azt bizonyítja: a minap felvetette a bizalmi kérdést. A párt vezető testülete által ímmel-ámmal elfogadott kérésének megfelelően március 4. és április 2. között 160 ezer SPÖ-tagot kérdeznek meg levélben, bízik-e még az egészségügyi miniszterből pártvezetővé előrelépett politikusasszonyban, aki 2017-ben még csak tagja sem volt a pártnak. A válaszadást bizonyára befolyásolja, vajon ki lenne helyette a párt elnöke.
A bizalmi kérdés felvetése bírálói - különösen a bécsi tartományi SPÖ - szerint kedvezőtlen időpontban történt, hiszen októberben Bécs választ tartományi parlamentet, illetve városvezetést, és erre kellene koncentrálni. Nem utolsósorban megfelelő jelölttel. Nem csoda, ha sokan Hans Peter Doskozilt tartanák a megfelelő listavezetőnek. Ő az ötletet nevetve veti el, és egyelőre a burgenlandi feladatokra összpontosít.